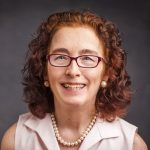 Liz Doyle – Career Coach, Certified Professional Resume Writer (CPRW), LinkedIn Specialist and Project Manager (PMP®) – leads the Career Forward team. She is consistently gratified to see her clients move forward in their careers.

Over the last two-plus decades, Liz has collaborated with C-Level decision makers, HR professionals, recruiters and hiring managers, and has gained invaluable insights into the world of business as it relates to finding, securing, keeping and promoting talent.

A former recruiter, IT project manager and C-level employer, she brings over 15 years of workforce management expertise in professional services, project management, information technology, finance, CPG/supply chain, manufacturing, logistics, facilities management, retail, hospitality, not-for-profit, military, government, and higher education.

Liz is an active member of the National Resume Writers' Association (NRWA) and specializes in resumes, LinkedIn profiles and professional biographies for executives and mid-career professionals. She also helps her clients navigate through the interview process.

A life-long learner, Liz is a certified Project Management Professional (PMP®) and a Certified Professional Resume Writer (CPRW®). She holds a Bachelors of Arts Degree, Cum Laude, in Legal Studies from the University of Massachusetts at Amherst and has participated part-time (with honors) in the MBA program at the University of Chicago Booth School of Business.
Connect with Liz on LinkedIn.   

Call 708.205.0927,  or Contact Us.